Snee to Speak at WU #30 Breakfast
06.16.2013
Chad Snee of Scott Publishing will be the Writer's Unit #30 Breakfast speaker at StampShow 2013. While Scott Publishing's main focus remains with the printed catalog, he plans to describe the digital publishing efforts of Scott as the publisher begins to provide applications for the many digital platforms in today's world.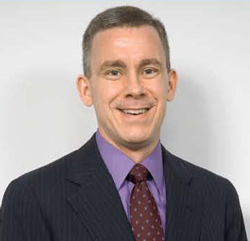 Chad started his career in the philatelic press when he joined
Linn's Stamp News
in the spring of 1999. He continued there for about seven years as a senior editor specializing in U.S. definitives. He also wrote the monthly feature
Dollar Signs
about high value U.S. stamps for about five years.
There was a break in his career when he was called up to the Navy Reserve in 2006 and he served in Afghanistan from about June 2006 through May 2007. On his return to civilian life Chad joined Scott Publishing as an assistant editor. When Jim Kloetzel retired from Scott in 2011 (after serving as the WU #30 breakfast speaker at StampShow that year) Chad stepped into Jim's editorial role at Scott.
Chad was born in Pittsburgh but grew up in Northern Virginia. He graduated from Cornell University in Ithaca, New York and while living in Ohio obtained an MBA from Wright State University in Dayton, Ohio. Chad has been married for 21 years and he has three daughters.
Philatelically Chad says he dabbles in several U.S. areas and also collects Ireland. His mother's brother inherited a stamp collection and helped Chad get started with his own collection when he was a kid.