Breakfast Speaker at StampShow
07.11.2011
SCOTT'S KLOETZEL IS FEATURED SPEAKER AT STAMP WRITERS' BREAKFAST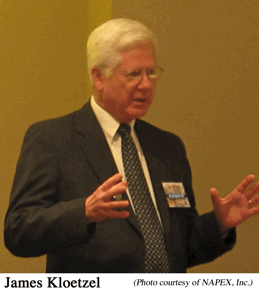 One of former Scott Catalogue editor James Kloetzel's last duties as a full-time Amos Hobby Publishing employee will be to speak at the APS Writers Unit #30 breakfast at StampShow 2011, August 14, in Columbus, Ohio.

Kloetzel joined Scott Publishing, a division of what is now Amos Hobby Publishing 17 years ago as its U.S. and Canada editor. He eventually became overall editor of the catalogues, but after his final day as an Amos staffer August 19, he will return to handling the valuing just for the U.S. and Canada, as a contractor.

Basically, he said in making the announcement at the NAPEX stamp show in McLean, Va., on June 4, he's come full circle. He'll get to do the parts of the job he enjoys best, and is giving the rest to Snee.

Kloetzel retired as overall editor in early June, and was succeeded by Charles Snee.

He will talk to philatelic writers and editors at the WU30 breakfast about his experiences editing the dominant stamp collecting catalogues in the U.S.

The American Philatelic Society Writers Unit #30 is open to all stamp collecting writers, columnists, editors, publishers and others interested in philatelic communication. It publishes a quarterly journal, The Philatelic Communicator, helps support literature competitions, and sponsors the Literature Grand Award at StampShow each year.

The breakfast will begin at 8:30 a.m. on Sunday, August 14, in the Franklin C Room of the Hyatt Regency Hotel. Tickets are $30 ($25 if purchased before July 20), and reservations may be made on the APS website. This event is open to both members and non-members.